*** German version available here ***
Invitation and call for participation and support by the UmGäng. Tell your friends!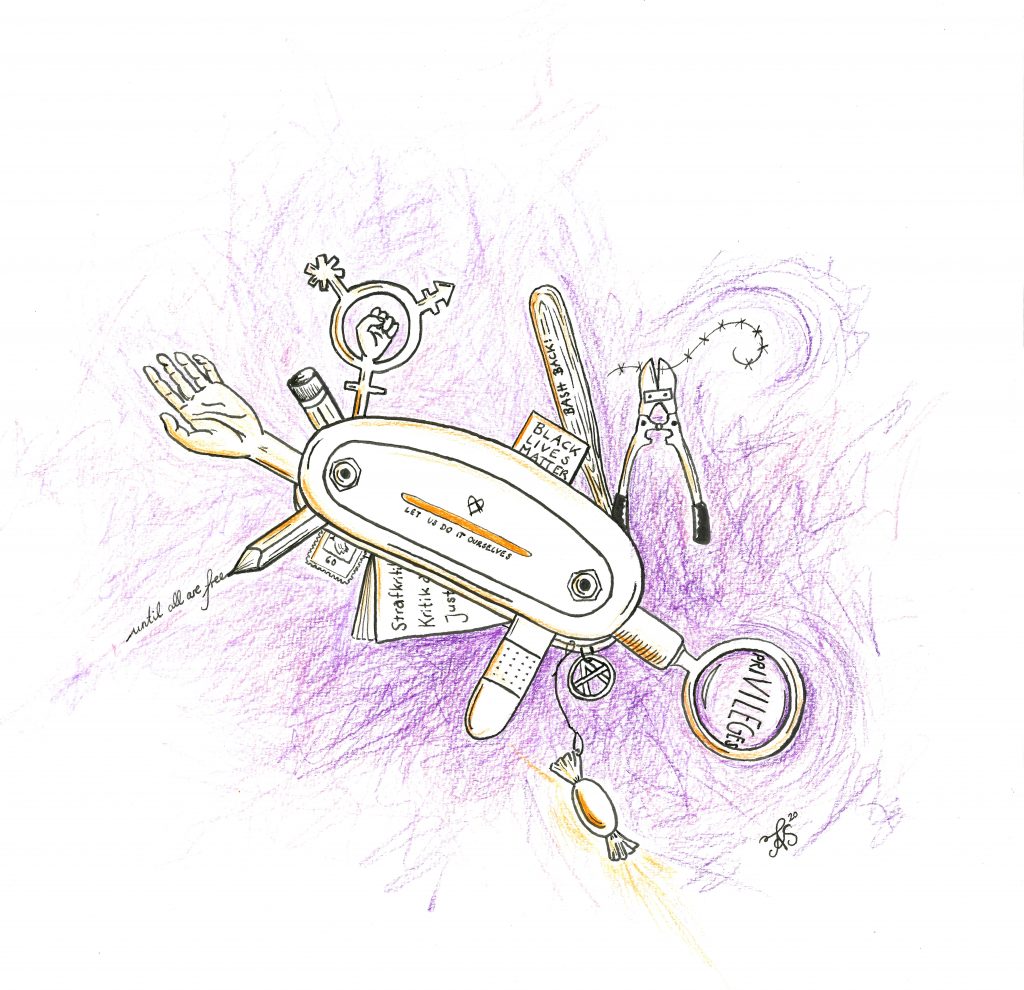 Transformative Justice handbook: theory, practices and perspectives
We are a group of people working with transformative justice in practice and theory. In order to make our experiences more accessible and to exchange with others, we are planning to publish a book on the topic. The book will bring together different approaches to the topic, such as activist and academic ones. With the book, we want to find, try out and broaden ideas on how to deal with interpersonal violence beyond the police and justice system. The book is aimed at people who already have some knowledge about transformative justice. Therefore, it is not meant to be an introduction, but a collection of knowledge meant to offer perspectives and opportunities to build on, to think beyond and to develop utopias. To do so, we want to create space for different formats: factual texts, interviews, poetry, art.
We experience patriarchal violence and oppression on various levels, such as sexism, homophobia, trans and queer hostility, sexualized violence and rape. We all have experience in the german-speaking and European left-wing scene and anti-authoritarian contexts. Some of us are less able-bodied than others. All of us are white, some of us have academic backgrounds, some of us are precariously living and working. This means that we lack various important approaches to TJ. However, we feel it is urgent to develop practical approaches to deal with interpersonal violence. We would therefore like to invite you to contribute to the book with your experiences and perspectives. We would be glad for your advice on what shouldn't be missing in the book and what we are perhaps missing right now. We'd also happily include your ideas for texts or texts that you would like to write yourself.
We had to create a first basic structure of the book in order to go on with our ideas and creativity. It is not a final version and can be changed, ideas, comments and critics are welcome.
How else can you support the book project?
We already do a lot of political work for no or few money and will keep on giving free workshops in the future. Therefore, you can help us by organizing money. Write applications for funds, organize soli events, empty your bank account, ask critical masculinity groups for money. We are looking forward to the project!
All the best
the UmGäng book group
---
Rough basic structure of the book
1. Introduction
Here, we want to explain our perspective and position on TJ and
introduce the topic.
2. Theory and background
Here we will discuss why we consider TJ to be useful and necessary, introduce different forms of interpersonal violence and the roots of the concepts with a focus on abolitionism.
3. Going into practice
Tools, instructions and structures for TJ practice in general
4. Community organizing
How can responsibility, community concepts and organization look like? What is needed in our communities?
5. Working in support groups
Tips, best practices and tools for support work
6. Working with people who caused harm
Tips, best practices and tools for transformative work with people who cause or have caused harm
7. Field reports
Experiences and practical reports from groups who do support work, transformative work, community work etc. + translations of existing texts
8. Replies and criticism
Dealing with already existing texts (in German); criticism, additions and answers
9. Outlook
Space for self-criticism, reflection and perspectives
10. Appendix
Contact, literature tips and glossary
---
Footnote
(1) Abled or able-bodied: The word is a regression from the English "disabled" meaning "not disabled". More info at https://www.queerulantin.de/?page_id=1007.
(2) Abolitionism means the movement to abolish slavery in the United States and its present-day continuations in forms of institutionalized racism, the prison industrial complex, and other incarcerating and inhumane institutions.
---
Contact
Email: umgaeng[at]supernormal[dot]net
PGP-Fingerprint: 44CD 379E 5EF3 01B1 B847 DF18 B076 A742 601A 882B
PGP-Key:
-----BEGIN PGP PUBLIC KEY BLOCK-----

mDMEYALCnBYJKwYBBAHaRw8BAQdAG+z9YLbJ5kR2mQ0dYVjrifDSZfo2p4FIdq+P
wbXLyAi0IVVtZ8OkbmcgPHVtZ2FlbmdAc3VwZXJub3JtYWwubmV0PoiWBBMWCAA+
FiEERM03nl7zAbG4R98YsHanQmAaiCsFAmACwpwCGwMFCQPCZwAFCwkIBwIGFQoJ
CAsCBBYCAwECHgECF4AACgkQsHanQmAaiCus+AD/ZwHABISIngQSdB+pjGd8UOkf
GhP6GETBTdPhALxDAhQA+QEANd1R/gpZrc7bMptdPbNkQF7+IUzaqhrMZPHRH+0G
uDgEYALCnBIKKwYBBAGXVQEFAQEHQPRM9HAnQU7L0zBKmLBYiZ91Y0K0mBV2akW7
QkDZSz0hAwEIB4h+BBgWCAAmFiEERM03nl7zAbG4R98YsHanQmAaiCsFAmACwpwC
GwwFCQPCZwAACgkQsHanQmAaiCv8QgEA3qn5p8phztOlkZG63kPkta7t4whK+gp2
jtIY8VXpP/QBANlWIIPbLzcy8dSmLdkczcet9twiv8cKPjsBZEZcDnYA
=AmaB
-----END PGP PUBLIC KEY BLOCK-----